Out of this world
Predesigned Sites
A pristine WordPress beauty made especially for your salon
A pristine WordPress beauty made especially for your salon
Your portfolio
Share Your Work
You can choose how to display your work with Léonie's selection of marvelous portfolio lists.
With Léonie you get a variety of different post single types; choose what fits your work the best.
Connect To Instagram
Connect your new website to your Instagram page, and let visitors see your Instagram posts.
Online store
Your Nail Salon & Store
Showcase merchandize with Léonie's stunning product list layouts tailored specially for your store.
Present products with captivating elements such as banners, image showcase elements and more.
Display products in a number of captivating ways thanks to a varied assortment of shop singles.
For your stories
Nail Art Blog
Choose one of the many blog single options Léonie offers & make engaging posts for readers.
Léonie comes with incredible customizable blog lists for you to present and organize your posts.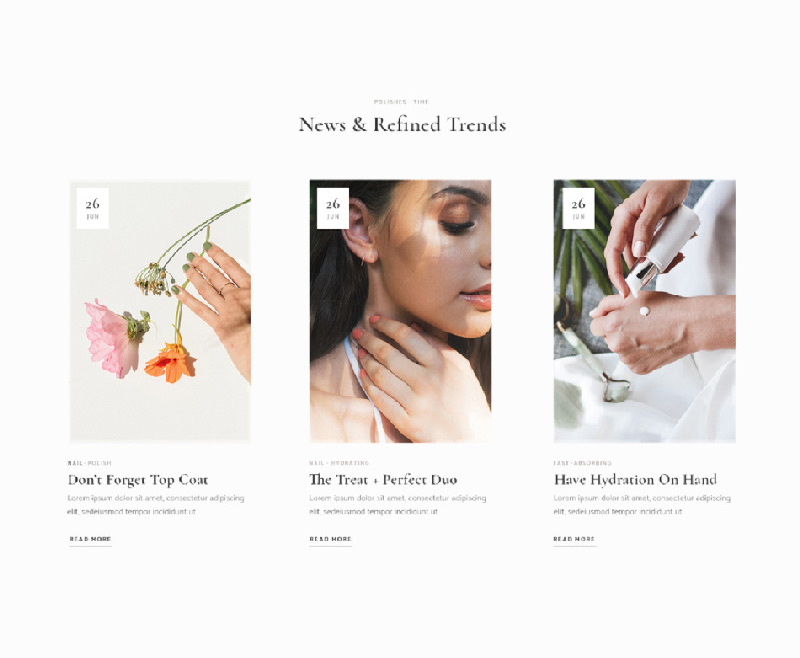 Captivate your audience with sublime interactive post types such as video, quote, link and more.
Online booking
Easy Reservation
Léonie comes with fully flexible reservation forms as well as a dedicated treatment booking page layout
Booked - Appointment Booking for WP
A powerful booking plugin comes included for free
Everything your online salon website needs - we nailed it!
Everything your online salon website needs - we nailed it!
Léonie, a Modern Solution for Nail Salon Websites
Every feature, layout & option for your salon